September 2020
Early in 2020 we decided we were going to move house, so I had to make a decision was I going to have my studio in my home, or move it outside of the house. First we found our new house, in Brightlingsea right on the Essex coast. There was room to squeeze the studio in the 'boat store' because that's what we have in our house, but then where would we put the boat?! So I decided to bite the bullet and try and find a studio space, if you've ever tried you will know they are not easy to come by. But, luck was on my side, I found one in the village of Ardleigh, about twenty minutes from my new house.
Ardleigh Studios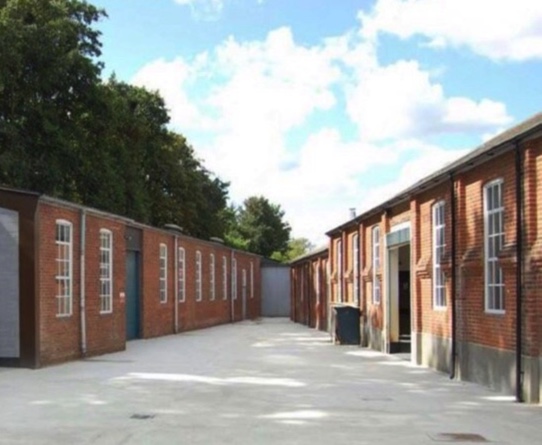 Ardleigh Studios house around 30 artisans in The Old Maltings, next to the railway line. They are owned by ACAVA (Association for Cultural Advancement through Visual Art), they are an arts organisation and educational charity, founded 43 years ago. They manage 20 buildings, providing studios for 500 artists, mostly in London, but also in Essex and Stoke-on-Trent.
I went to visit the studios with my artist friend Lindsay and loved the feel of the place and the available studio, unlucky for some number 13. I applied and was accepted, yes, you have to apply and be vetted, they don't let any old David Hockney in.
Moving in
We hired a van and moved everything ourselves, it was a big van, there was a lot of stuff, is that detailed enough for you? Maybe a picture would help?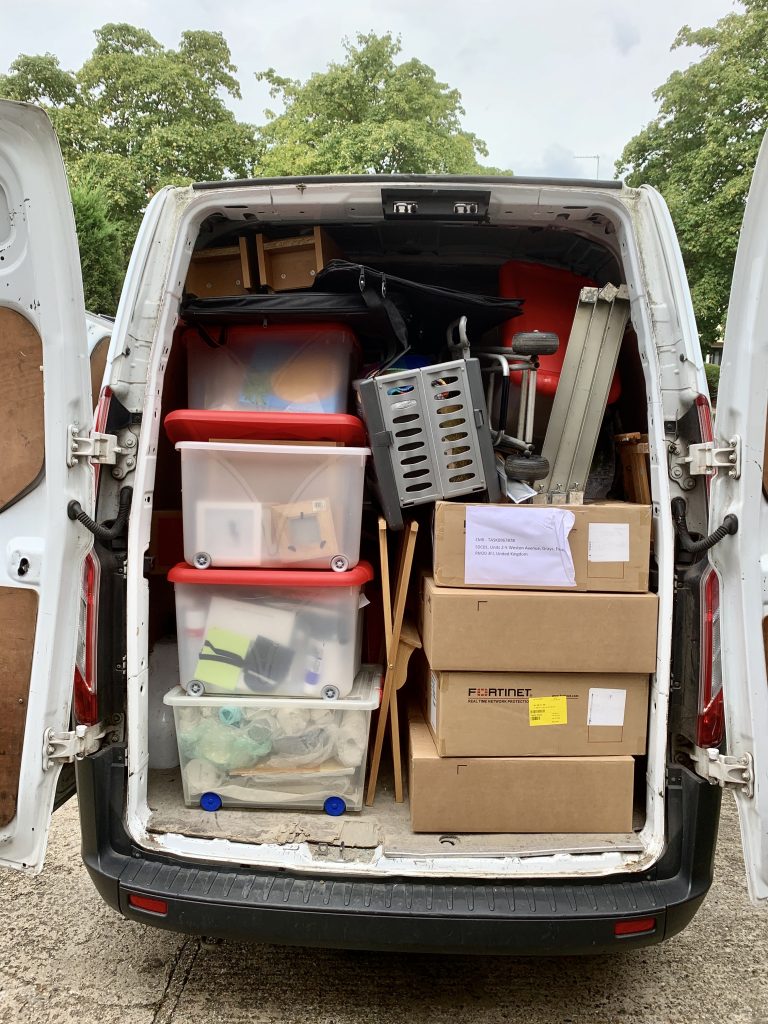 Why has it taken so long to work in my studio
So, the mathematicians amongst you will have worked out that it has been some six months since I took the studio, that's rather a long time. Since September I have been working on my kitchen table, because it has taken me rather a long time to unpack, sort things out and also overcome the resistance to actually working in a new space.
I realised last week that I was putting off going to the studio. I had a lot of resistance to simply going outside my house, getting in my car and being in a new space. It felt really daunting to go there, I felt a bit like the new girl, and a bit of an imposter, surely only real artists have studios. Do I deserve to have a studio? Is this all a big waste of time and money? Self doubt is alive and real and it is a constant thing that artists and most people have to deal with. Well, I've taken the first step and now all of my paintings and materials are in the studio, so if I want to paint, I will have to go there!
What do I do in there?
A studio is a bit like a sanctuary, a sacred place where magical things happen. I always have a ritual when I go into my studio, the first thing I do is light a candle or burn some incense. At the moment, I particularly like Esteban incense, they have beautiful fragrances, my favourites are Cedre and Neroli. I also like to play music, I have a studio iPod with music to inspire, make me dance, chill out to and paint. I sometimes listen to Podcasts as well, my favourite is The Laura Horn Podcast Laura, is an Australian artist who is very calming to listen to.
After I've set the scene, I will usually start with a gentle potter around, tidying, looking, re-arranging before getting down to work. I generally paint standing up and have a number of easels, but I'm also going to create a painting wall, which means that I can hang a lot of work on the wall at the same time. A job for this weekend for the husband methinks.
I usually paint for a couple of hours then have a rest, I have an old leather sofa which is great for sitting on, and also napping on! One of my favourite things to do in the studio is sleep, I know that sounds crazy, but a short rest is very therapeutic.

I have a lot of storage space because as well as painting I like to do collage and work with lots of mixed media, which takes up a lot of space. I also have quite a bit of printing equipment, Lino printing and silk screen printing.
My husband makes jewellery and he has a bench in the corner and lots of technical looking tools.
When my door is open, other artists stop off and have a chat which is lovely. In fact I met someone that I knew online who also has a studio here, the brilliant landscape artist Sarah Milne.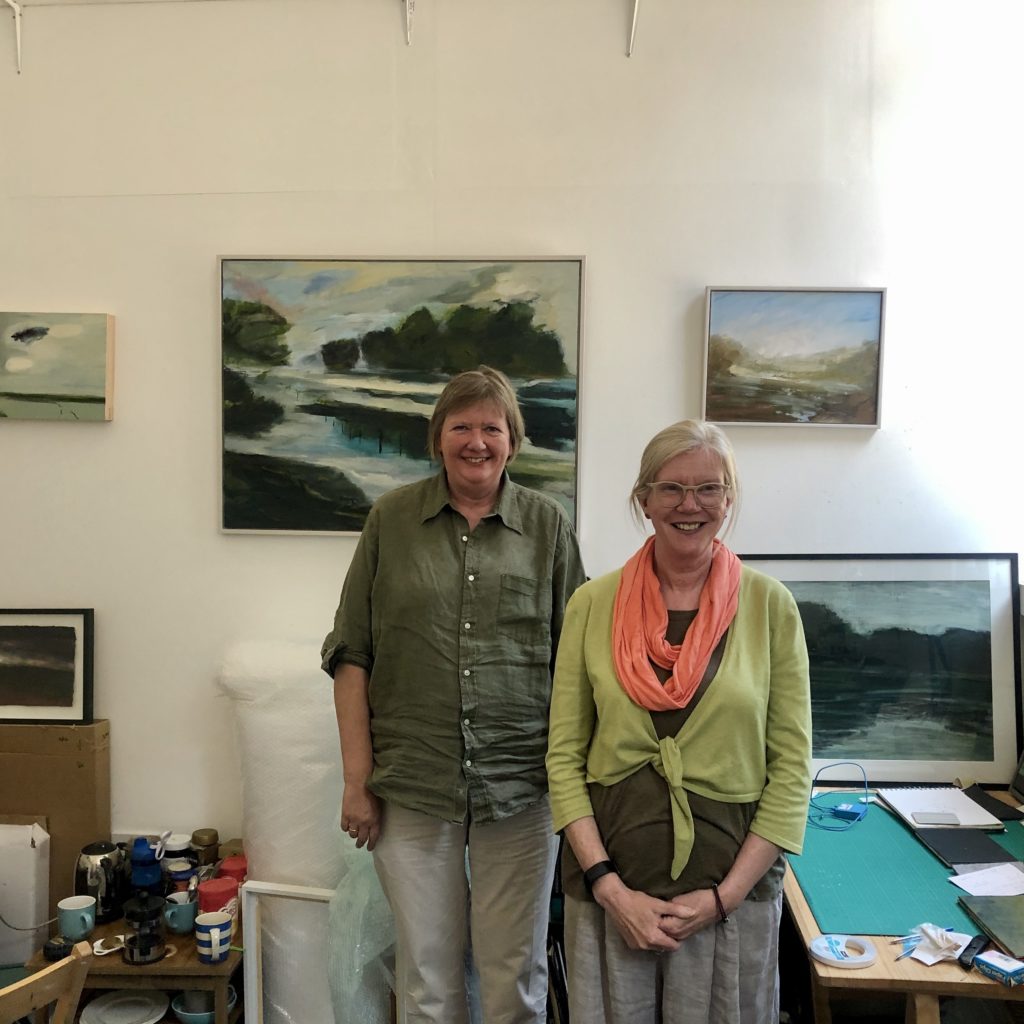 Want to see more?
It isn't quite finished yet, but it's coming together nicely, I can't wait until you can come and visit, hopefully really soon. Until then I made a short video to show you inside the studio, I hope you enjoy it .
Some other artists studios you can visit
One of my favourite studios to visit is Charleston in East Sussex, it was the home and studio of Vanessa Bell and Duncan Grant. Here are some other studios you can visit around the world! If you've found a great artist's studio, do please let me know where it is.
Stay in the loop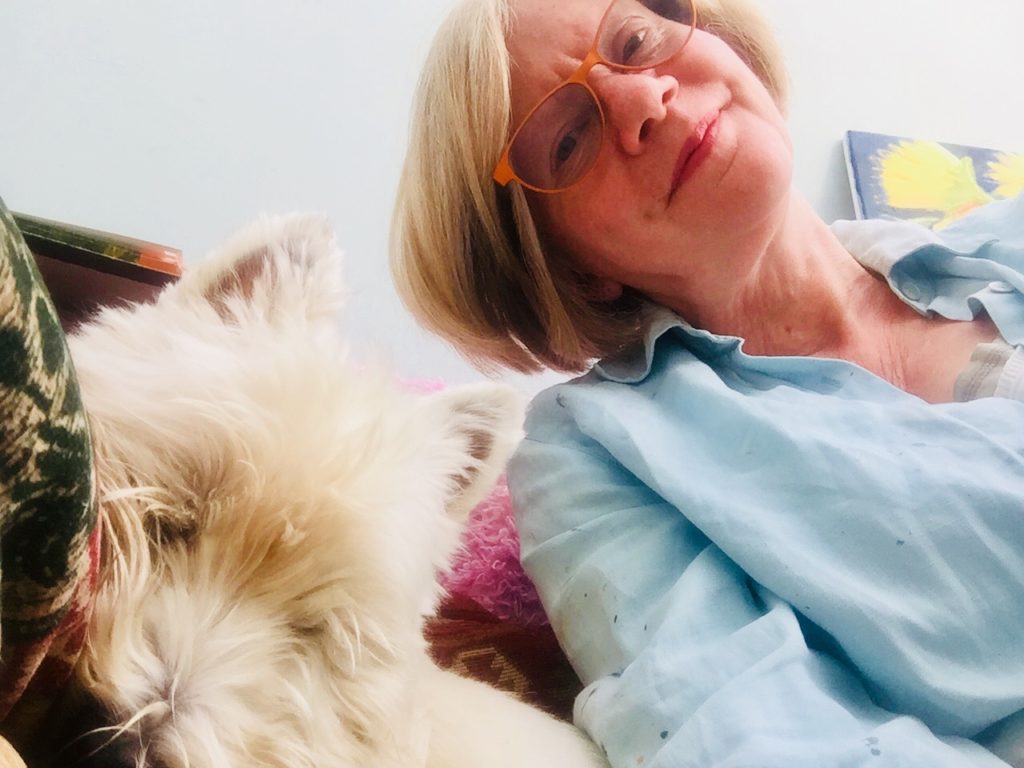 If you'd like to know when a new blog post comes out and get updates on new work, exhibitions, workshops and art tips, please sign up to my mailing list. I won't bombard you with emails and I will never share your information.