In this class we will create a beautiful springtime painting of two sheep under a blossom tree.
I will guide you every step of the way from setting up your stay wet palette right through to putting in the final finishing touches.
You will see me paint in real time, and I'm a very slow painter so you won't ever feel rushed.
The class is split into lessons you can stop and start when you want to.
You will be amazed at what you can create even if you haven't painted for some time.
Watch the introduction video…
Who is this for?
This course is for absolute beginners and more experienced artists who would like to try something different.
It is for people who would like to see how to create a painting from beginning to end, everything is shown in real-time. I know when I was learning to paint many years ago I really wanted to see the whole process, not just time-lapse videos that make it look really easy.
Making art is fun and relaxing, let me show you how easy it can be to create some beautiful pictures. Join me in this soothing class and unlock the creativity inside you that's just waiting to break free.
What will I learn?
You will learn about the basic materials I use for painting and mark making and what
I hope that you will learn lots of things by completing this course. In particular, I would like you to take some time out for yourself and by completing the course find out that you can complete a painting that you are proud of. Some specific things you will learn include:
how to mix colours
how to apply the paint
how to create a stay wet palette
how to relax and enjoy painting
how to build up layers of paint to create subtlety in your work
Course contents
Introduction – video
Painting the background – video
Putting in the tree – video
Bringing it all together – video
Access to Private Facebook Community Group
Class review
Here's a great painting fromTracy who lives on the Isle of Wight, and it's her very first painting. I think it's absolutely fabulous, and the glitter is a great addition.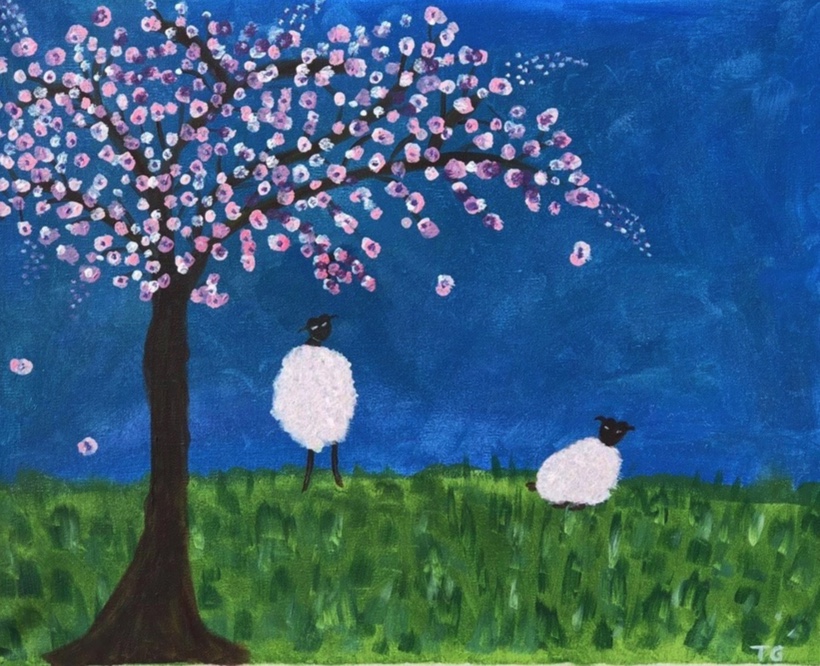 Here's what Tracy said:
Thank you so much Chrissie for giving me the chance to try out one of your fabulous Painting Courses !
"I signed up for the free Springtime Class, learning to paint the sheep in the field. I have never painted in my life and was quite nervous about it all. I ordered a canvas and some acrylic paints (I already had paint brushes for 'crafty' stuff that I do). It took me 10 days to pluck up the courage to start, but once I started I found I couldn't stop ! Chrissie has such an amazing calmness about her and I found the individual videos so easy to follow. It took me most of the day to do (let's be honest, I have all the time in the world right now)! However, I am so pleased with the end result. It's by no means perfect, and there's too much blossom on the tree, but I loved the whole experience.
I really wish I lived nearer so that I could come and join the painting evenings (once lockdown is lifted, obviously). I would definitely recommend you all take a class with her.
Thank you Chrissie for inspiring and encouraging me xxx
PS I did put my own 'twist' on my painting – I added some sparkly iridescent glitter to my sheep whilst the paint was still wet, as I just love glitter."
Share your work and get feedback

Once you are enrolled on the course you will get access to a dedicated closed Facebook Group. In the group you can share your work for comments and feedback by myself and other people on the course. It's like being a part of an art community, I hope you will find this support encouraging and invaluable.
For more information and to get started, click below.