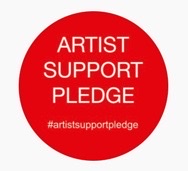 I am offering affordable artwork as part of the The Artist Support Pledge. This has been a hugely popular initiative for artists that have struggled to exhibit their work during lockdown. It was started by artist Mathew Burrows. The idea is simple, artists offer work for £200 or less, when they have sold work to the value of £1,000 they commit to buying a piece from another artist for £200. This scheme has been invaluable for many artists.
Suffolk Inspired Abstract Landscapes
I was unable to visit Suffolk during lockdown, so between March and July 2020 I painted these little abstract landscapes based on my memories of being in Suffolk. They are inspired by the Suffolk countryside and coastal areas.
They measure just 20 x 20 cm each and are all painted on board or cradled panel.
If you are interested in any of the paintings please do get in touch, I am happy to share close-up images, room settings and any other information that will help you decide if it is the right artwork for you. I have work in collections in the U.K, Europe and the USA.
Click on the images to enlarge and see prices and dimensions.
Through the Woods
– two abstract paintings in oil framed in white wooden frame