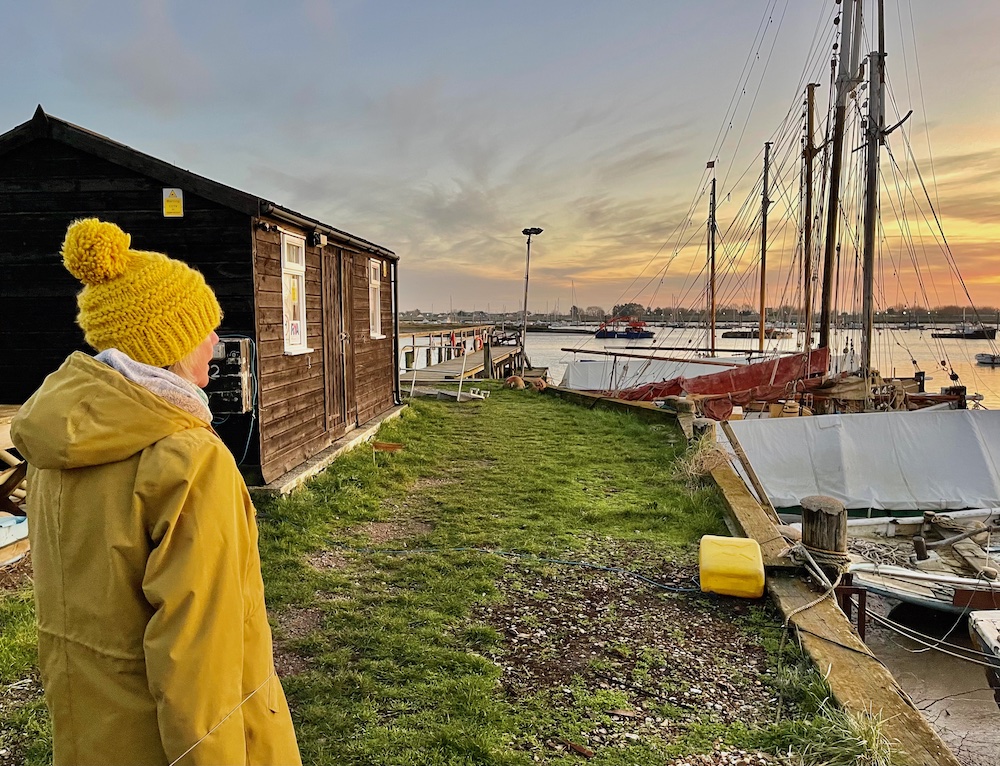 I am a Brightlingsea based artist known for my innocent narrative figure paintings that nestle between abstraction and reality…
I invite you to take a peek into my world, to notice a moment captured in time and use your imagination to connect with the image and the narrative. Whilst my paintings may appear naive and childlike they provide an opportunity to slow down and take stock of the simple things in life.
I am interested in themes of identity and memory and am currently exploring these in my practice. I am currently in my second year of studying at Colchester School of Art to complete a Fine Art degree.
My work has twice appeared at the SWA exhibition at the Mall Galleries, London, I was shortlisted for the Sir John Hurt Art Prize in 2021 and 2020 I won the Best in Show award for the Gibberd Gallery Open Exhibition 2020.
I have been painting since 2010 and am now a full-time professional artist having slowly transitioned from running my own market research business for over thirty years. In 2020 I moved to Brightlingsea on the North Essex coast, when I'm not here I can usually be found in Suffolk. My work is in several private collections around the world and has twice been selected for the prestigious Society of Women Artists Annual exhibition.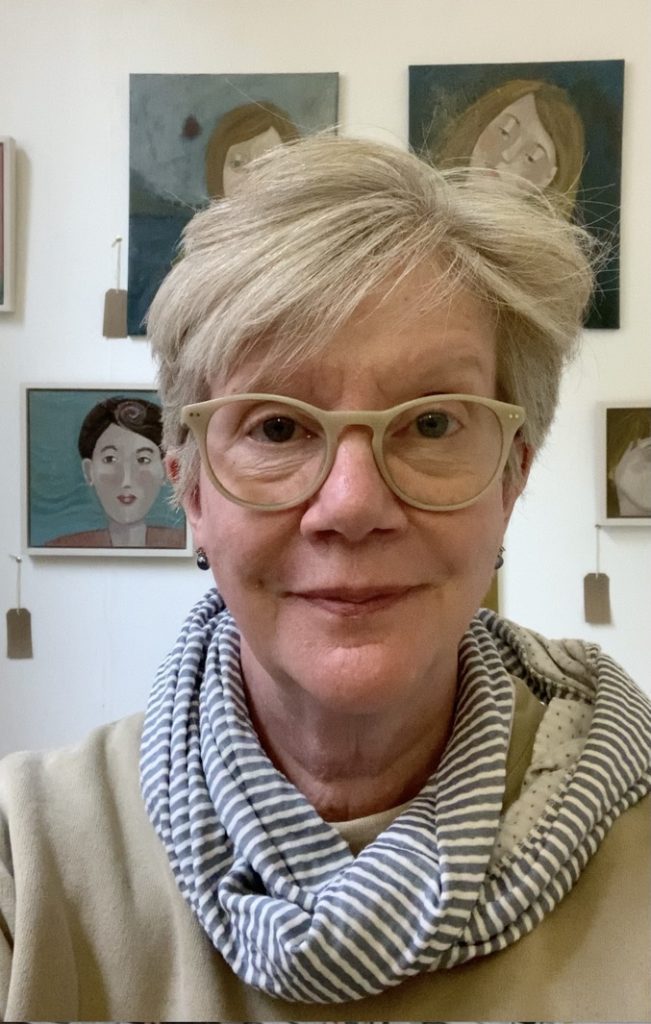 Interview with The Perspective Project
I was honoured to be interviewed by Rachel of The Perspective Project; an organisation that tackles mental health stigma through art and creativity.

My conversation tells you more about my belief in the importance of good mental health and why it supports and informs my art practice. You can listen to my interview here: LISTEN NOW
Awards
In 2020 I was awarded Best in Show at the Gibberd Gallery's annual Open Exhibition for 'Just the Three of Us'.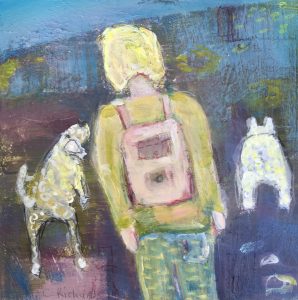 'Just the three of us' mixed media on board 20 x 20cm 2020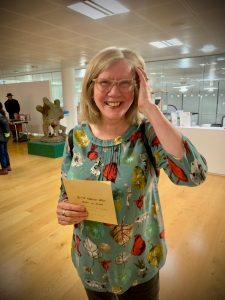 I was delighted and very surprised to win Best in Show. Here I am clutching my golden envelope!
Commissions
I am also available to accept commissions, please get in touch if you would like to discuss a specific project.
A portrait commission of the beautiful Megan, painted in 2021.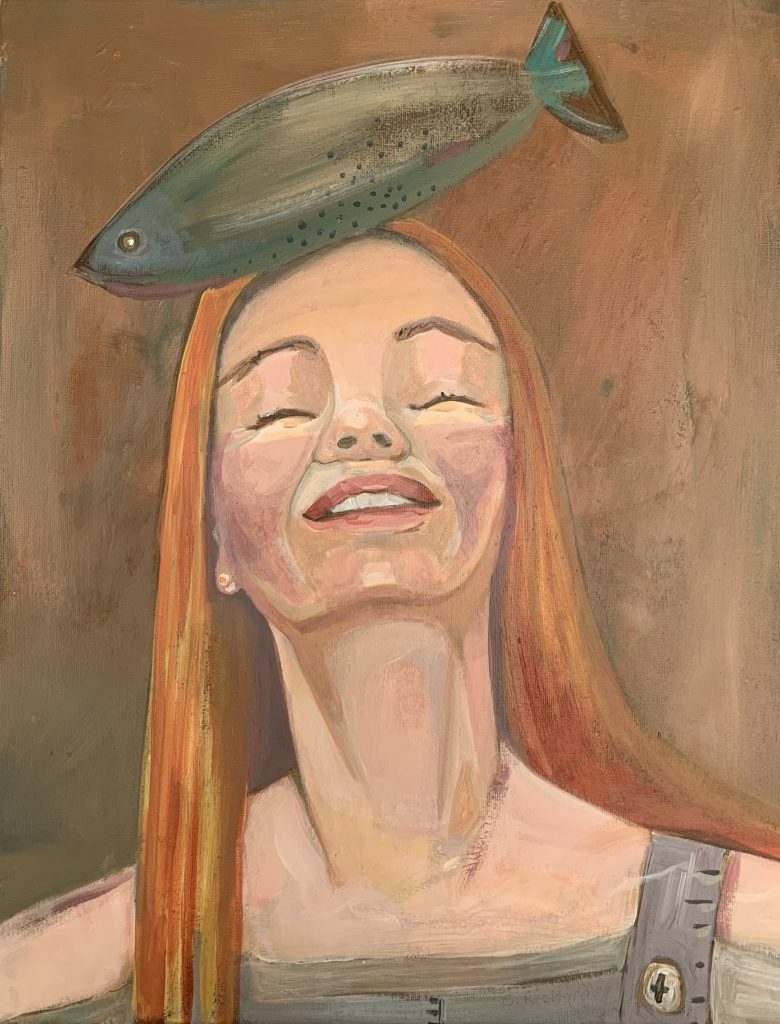 An abstract painting commissioned by the Davies family in 2017.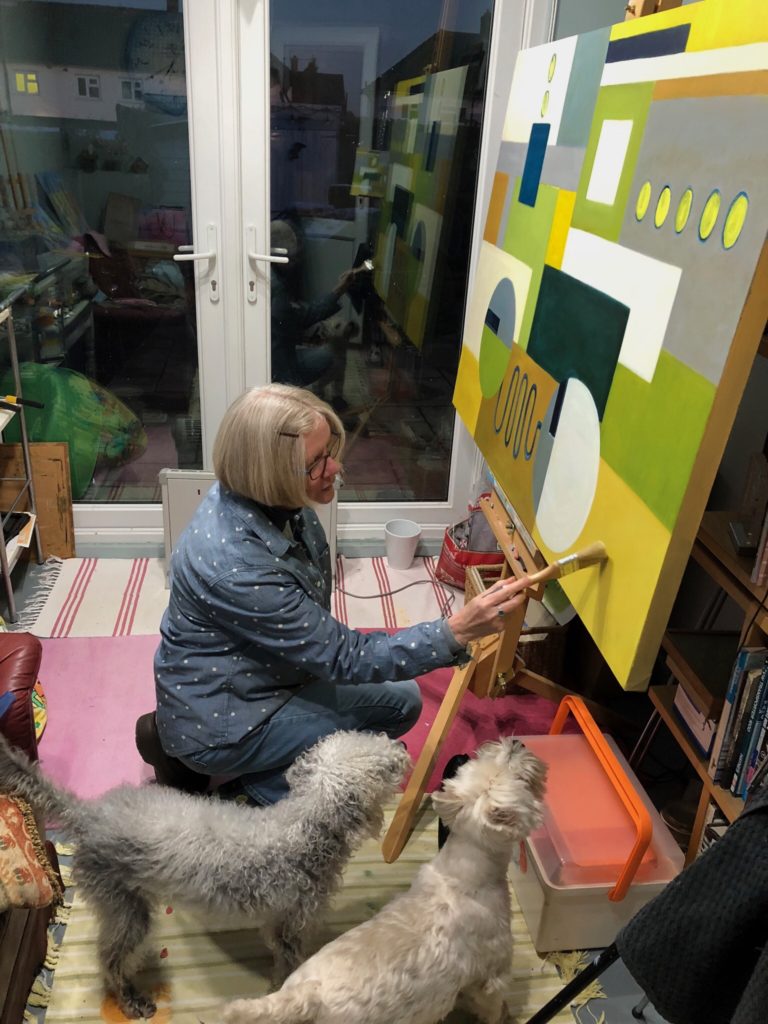 Training
I am currently undertaking a Fine Art degree, previously I have taken courses with Anthony Connolly, Lupe Cunha and Nicola Slattery.  My work has continued to develop and evolve. In 2018 I have completed an intensive three month course called the Creative Visionary Programme with Nicholas Wilton of ART2LIFE. In 2021 I completed the Learning to See course with Gabriel Lipper focusing on combining realism and abstract together in a painting.
What my work is about
My work is about people and their connections to time, place and others. I am interested in how our past, present and future are intertwined, how all of our experiences are stitched together to make us who we are. I believe that the majority of people are fundamentally good and try to create work that invokes a sense of hope and joy.
How I work
I usually work on a few pieces at a time, working on multiple pieces together enables each piece to inform the others. Mostly I paint on boards or canvas building up many layers. I take inspiration from where I live and what is around me, people I see or places I visit as well as Brightlingsea and Suffolk where I spend a lot of my time.
Recently I have been thinking a lot about my childhood, I have been looking at old family photographs and media from the 60s, this provides a rich seam to explore.
Why I do it
Making art is my response to the life I live. It is how I communicate my experiences and feelings, I often find it easier to paint about it than talk about it. Recently I have been focusing on painting people and my work is influenced by images from the past and the reality of people working and relaxing by the sea that I see every day. Painting is a way to try to find out more about my identity and how I fit into the world.
Exhibitions:
2022
Ardleigh Open Studios
Ardleigh Studios, Ardleigh, Essex
Waterside Artists Summer Exhibition
Brightlingsea Museum, Brightlingsea
Colchester Art Society Summer Exhibition
Online
The Art of Grieving
Town Hall, St Peter's Street, St Albans
Exploring Memories – 3 Approaches
The Sail Loft, Manningtree, Essex
Art at Ink
Art Exhibition at the Ink Festival, Halesworth
2021
Ardleigh Open Studios
Ardleigh, Essex
Sir John Hurt Art Prize – shortlisted
Holt Festival, Holt, Norfolk
2020
Sir John Hurt Art Prize – shortlisted
Holt Festival, Holt, Norfolk
Harlow Open 20 x 20 – winner Best in show
The Gibberd Gallery, Harlow
Female Focus
Gatehouse Arts, Harlow
2019
Present Arts – 7 November – 22 December
Parndon Mill, Harlow
Heart Research UK Secret Auction
Leeds and online
Cambridge Open Art – 11-13 October
Swavesey, Cambridge
Transference – 16 August – 4 September
Halesworth Gallery, Halesworth, Suffolk
Nude or Fully Clothed
Nude Tin Can Gallery, St Albans
Talented Art Fair
Brick Lane, London
2018
Harlow Open 2018
The Gibberd Gallery, Harlow
Society of Women Artists 2018 Exhibition
Mall Galleries, London
2018 Art2Life Academy Exhibition
Online
Heart Research UK Secret Auction
London and online
2017
Present Arts
Parndon Mill, Harlow
Contemporary Colour
Benham Gallery, Cuckoo Farm, Colchester
Society of Women Artists 2017 Exhibition
Mall Galleries, London