About me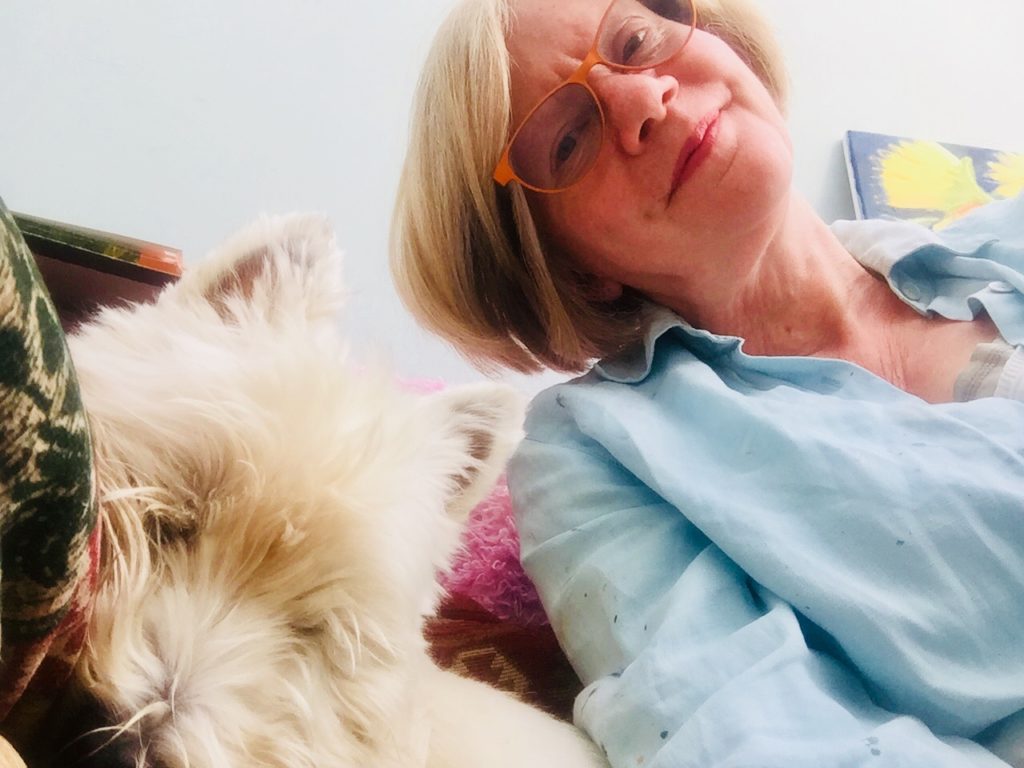 So, a little bit about me… I work from my studio at home in Hertfordshire or whenever I can at my bolt hole in Darsham, Suffolk. I am often joined by my two dogs, Ruff the West Highland Terrier and Luna the Bedlington Terrier.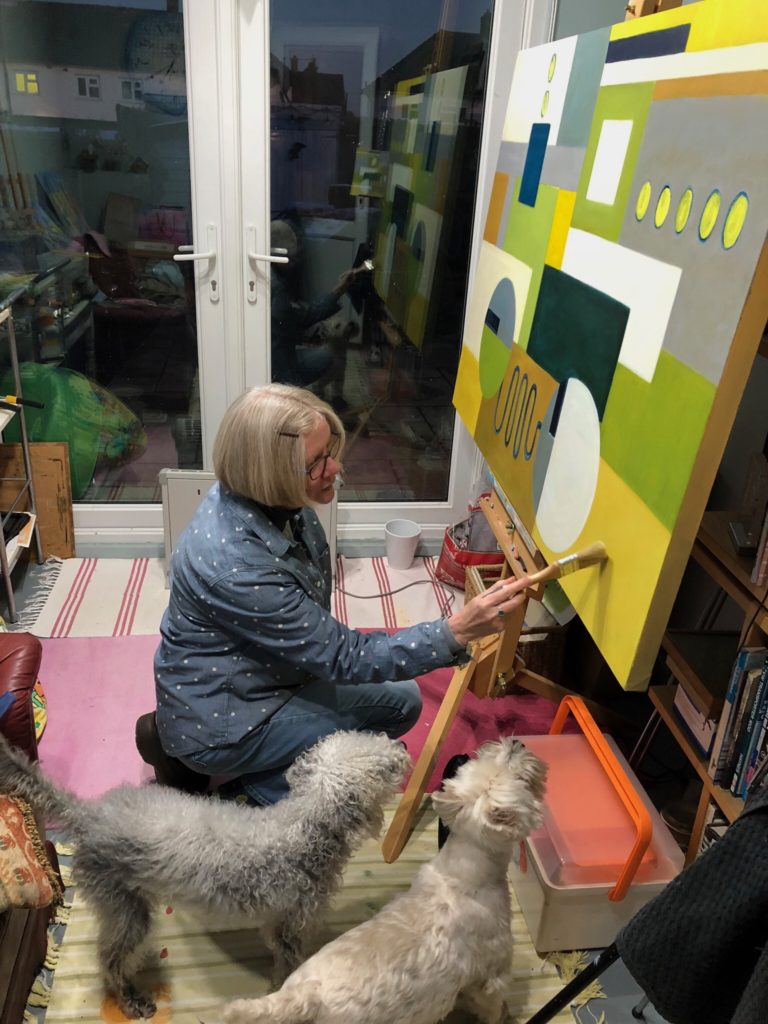 When I started painting back in 2010 I mainly painted and printed dogs. Ruff inspired much of my work, he was my only dog back then. This painting, entitled 'Wind in my hair' was extremely popular and prints are often requested.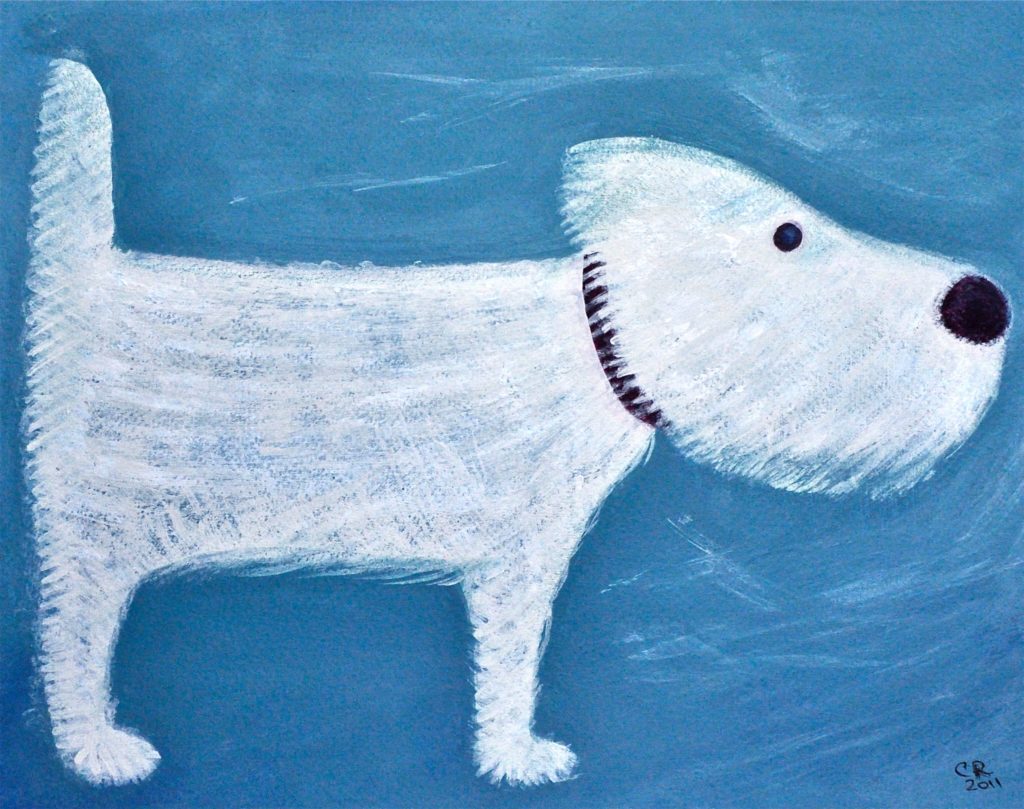 Training
I am largely self taught although I have taken courses with Anthony Connolly, Lupe Cunha and Nicola Slattery.  My work has continued to develop and evolve. Most recently I have completed an intensive three month course called the Creative Visionary Programme with Nicholas Wilton of ART2LIFE. This course has been a game changer in terms of how I work. It has enabled me to develop a practice that is enjoyable and sustainable. I now work much more intuitively and have a lot more fun in the studio. It has also led me to explore working in a more abstract way which I have enjoyed, much to my surprise.
How I work
Most work starts from just playing with materials with no plan or outcome in mind. Paint, collage, pastel, charcoal and graphite amongst other materials are laid down layer after layer until an idea or image emerges.  I am particularly drawn to colour, shapes and texture. So I put something down and then add something in response to what is in front of me. When it stops working or being interesting I move onto something else. Working on multiple pieces at once enables each piece to inform the others. Mostly I paint on boards or canvas building up many layers. When a piece is finished it is glazed and finished with wax to give it a lovely rich creamy finish.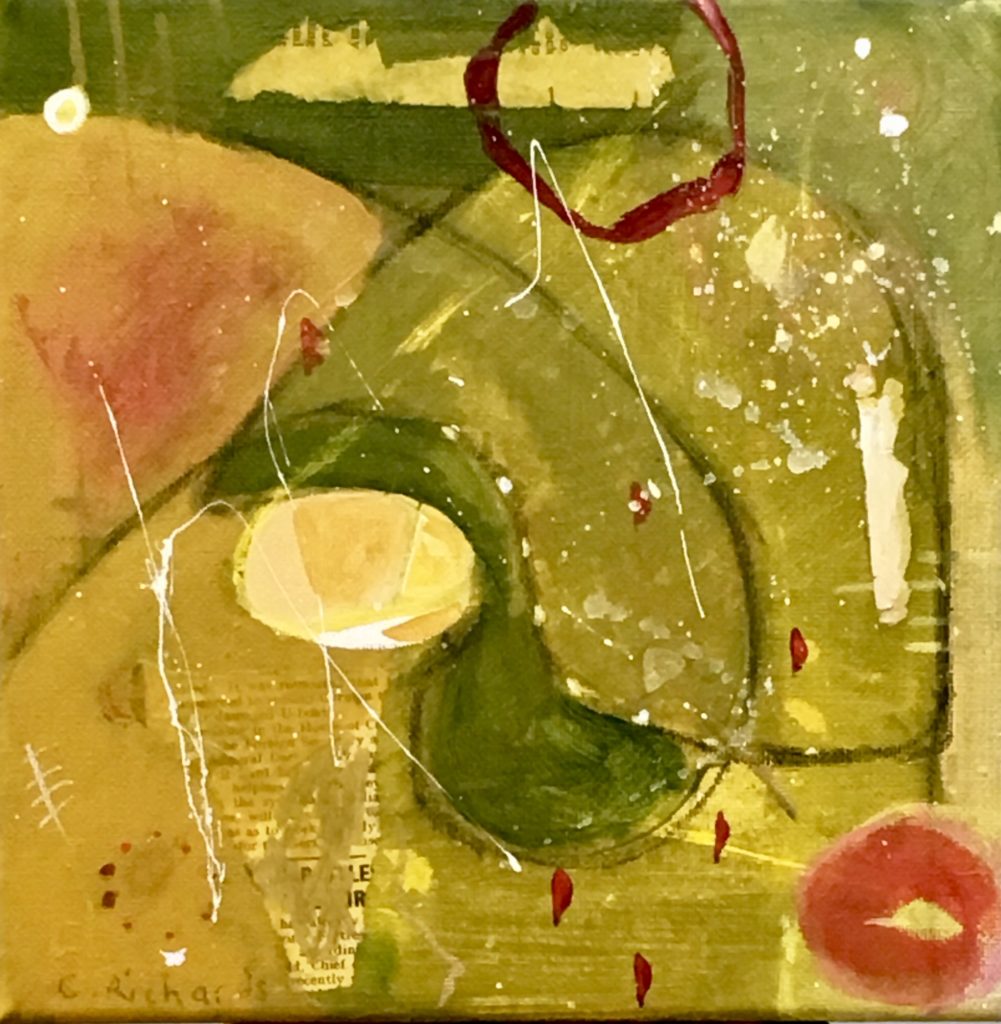 Why I do it
Making art is my response to the life I live. It is how I communicate my experiences and feelings. I might try to capture the fragrance and beauty of fresh flowers, something that made me laugh or something that moves me deeply, it's all in my paintings.
Exhibitions:
2019
Present Arts – 7 November – 22 December
Parndon Mill, Harlow
Heart Research UK Secret Auction
Leeds and online
Cambridge Open Art – 11-13 October
Swavesey, Cambridge
Transference – 16 August – 4 September
Halesworth Gallery, Halesworth, Suffolk
Nude or Fully Clothed
Nude Tin Can Gallery, St Albans
Talented Art Fair 
Brick Lane, London
2018
Harlow Open 2018
The Gibberd Gallery, Harlow
Society of Women Artists 2018 Exhibition
Mall Galleries, London
2018 Art2Life Academy Exhibition
Online
Heart Research UK Secret Auction
London and online
2017
Present Arts
Parndon Mill, Harlow
Contemporary Colour
Benham Gallery, Cuckoo Farm, Colchester
Society of Women Artists 2017 Exhibition
Mall Galleries, London